Rotary scrubber equipment image: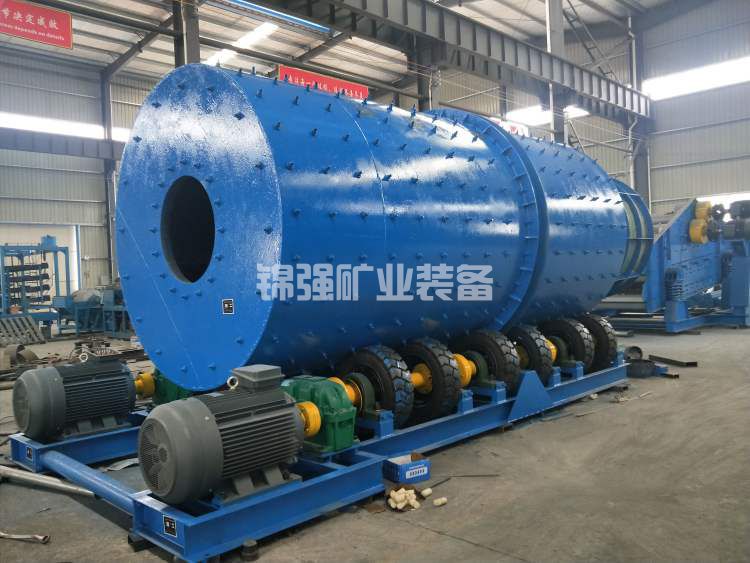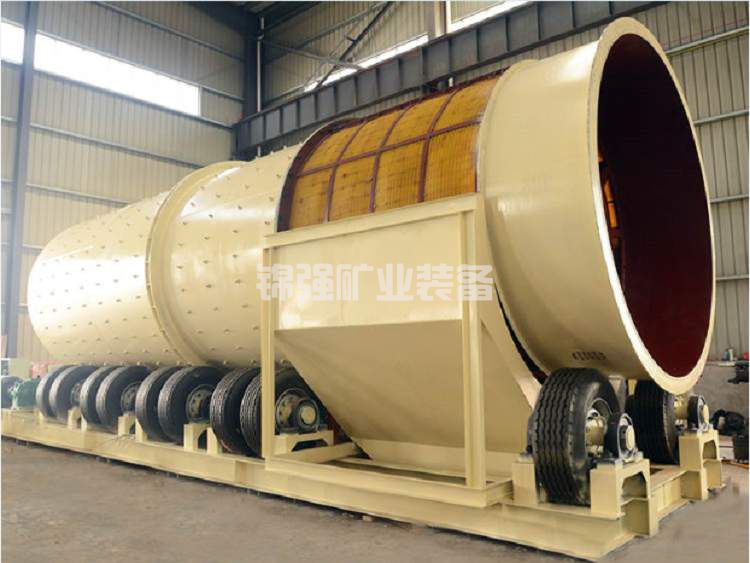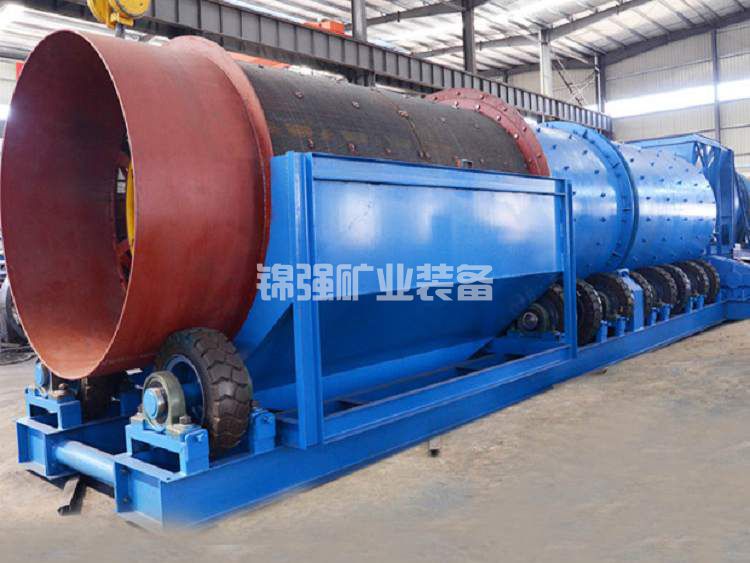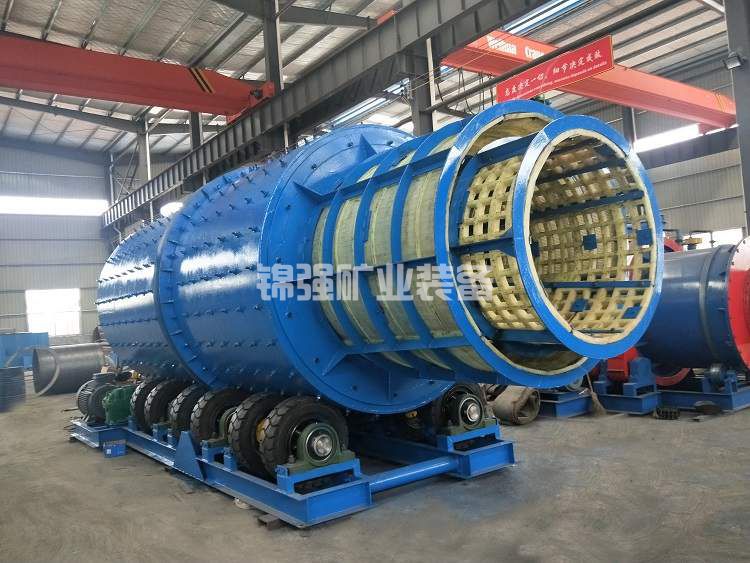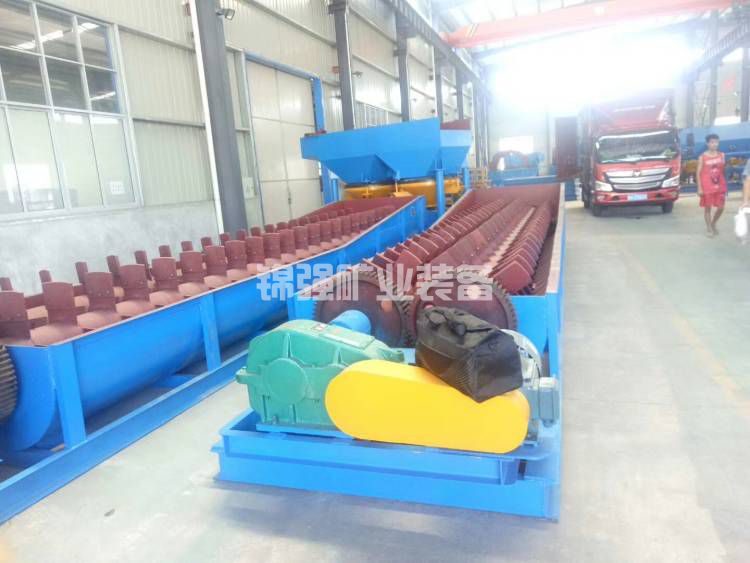 Rotary scrubber equipment details:
Introduction to Rotary scrubber:
Rotary scrubbers are large and medium-sized machinery and equipment used for cleaning iron ore in gray black and non-ferrous metallurgical industries, mining, steel, metallurgical industries, chemical plants, and decorative building materials. Rotary scrubbers are classified into spiral washing machines, drum washing machines, stone washing machines, industrial washing machines, and large mechanical washing machines. Ore washing is the entire process of removing clay based raw materials from iron ore; The Rotary scrubber is widely used in the field of phosphate and copper ore washing and desliming. The Rotary scrubber is set before the operation of crushing, re separation, magnetic separation equipment, and flotation reagents, to remove the harm and harm of mineral mud to this work, improve work efficiency, and obtain excellent separation indicators. The large Rotary scrubber has a great ability to solve the problem of work, and is an ideal machine equipment for companies that have regulations on the cleanliness of iron ore and sand and stone materials as the main production force. The Rotary scrubber can prevent the sand in the raw materials of sand minerals from blocking, crushing, and screening equipment. If the raw materials contain soluble, effective, or hazardous ingredients, ore washing should also be carried out.
Working principle of Rotary scrubber:
The stone washing machine is to discard impurities and low specific gravity gangue through gravity beneficiation to restore the geological grade of Baryte. The Baryte washing production line is mainly composed of Rotary scrubbers, jigs, dewatering screens, dryers and other auxiliary equipment. After the raw ore is screened by crushers and vibrating screens, it is divided into 0-8 and 8-30mm particle sizes, which are fed to the corresponding bins through conveyors respectively, A vibrating feeder is set under the silo to feed Baryte of different particle sizes into different jigs for washing. Concentrate and tailings are dehydrated through a dewatering screen and then sent to the stockyard for stockpiling. Concentrate is dried by a dryer and then grinded.
The selection processes of stone washing machines include manual selection, gravity selection, flotation, magnetic separation, etc. Many ore washing equipment produced by Jinqiang, such as various specifications and types of stone washing machine and stone washing equipment, as well as Baryte screening and soil removal equipment specially designed for customer conditions, can effectively solve the problems puzzling the majority of users, and specifically recommend appropriate, reasonable, economic, efficient, environmental protection Baryte stone washing machine design scheme, equipment model and other professional technical guidance to users.
A production line designed for the washing and extraction of gold from placer gold mines according to the needs of mining machine users. Different mechanical washing machines are designed for different types of placer gold mines, and each gold beneficiation production line can achieve maximum efficiency. The beneficiation production line of Sha Gold Mine is divided into many different types. Due to the different properties of Sha Gold Mine, there are also significant differences in the beneficiation production line. If you want to choose a gold washing machine, we will design a reasonable mechanical washing machine according to your specific requirements and actual situation.
Main characteristics of drum type Rotary scrubber
1. High integrity
Except for the finished material stacking belt conveyor, all systems are integrated into a single overall framework, ensuring the integrity of the equipment while leaving appropriate maintenance and inspection space. Highly integrated, convenient and safe for storage or transportation at the construction site.
2. Work reliability
The core stone washing system adopts the mixing principle of a mixer, and the raw materials are subjected to continuous spiral blades rolling, pushing, and mutual friction between materials in the mixing drum, with strong natural and high reliability.
Our company has designed and manufactured a new type of Rotary scrubber aimed at various defects in the drum washing machine, which has the following characteristics:
1. Adopting a new transmission method with high energy and low power consumption;
2. Compact structure, easy installation, and simple operation;
3. Small land occupation and low cost;
4. Low cost and fast replacement of vulnerable parts;
5. Saving electricity bills: Compared to other manufacturers and equipment of the same model, it can save you more than 30% of electricity bills;
6. The mud content after washing is generally not more than 0.4%, which is superior to relevant specifications and standards;
7. After washing, due to the clean crushed stone and the uniform and stable strength of the concrete, it can save about 5% of the cement dosage while ensuring the same strength; The construction site laboratory can compare dirty and clean materials for testing;
8. Adopting the most advanced theory of water circulation sedimentation, a separate circulating water sedimentation tank is designed for each construction site, which not only solves the problem of water source but also prevents pollution. Compared to spiral stone washing machines and traditional drum stone washing machines, they have the advantages of high output, low operating noise, and more convenient maintenance. Used for desilting and screening operations of large amounts of sand and stone used in construction sites, sand and stone factories, prefabrication plants, and hydroelectric construction sites, as well as for ore sorting operations
Common problems with Rotary scrubber:
1.What is a Rotary scrubber?
Cylinder washing machine is a device used for ore or sand washing, which removes impurities and soil from the ore or sand by rotating the cylinder and spraying water, thereby improving the quality of the ore or sand.
2. What are the application areas of Rotary scrubber?
The Rotary scrubber is widely used for the washing of various metal ores such as gold, iron ore, aluminum ore, copper ore, manganese ore, zinc ore, lead ore, as well as non-metallic ores such as coal, limestone, quartz sand, etc.
3.What is the working principle of a Rotary scrubber?
The cylinder washing machine continuously rolls the ore or ore sand inside the cylinder by rotating the cylinder and spraying water. The rotating ore or ore sand repeatedly contacts the water spray to wash away impurities and soil.
4.What are the advantages of Rotary scrubber compared to other ore washing equipment?
Compared with other ore washing equipment, Rotary scrubber have advantages such as simple structure, good washing effect, large processing capacity, and low energy consumption. At the same time, it can adapt to different types and particle sizes of ores or ore.
5. Does the cylinder washing machine require maintenance?
Yes, the cylinder washing machine needs regular cleaning and maintenance. During cleaning, the residues and sludge in the cylinder shall be removed, and during maintenance, the motor, reducer, bearing and other parts of the equipment shall be checked for normal operation.
6. What is the service life of a Rotary scrubber?
The service life of a Rotary scrubber depends on factors such as the operating environment, operating methods, and equipment maintenance. In general, a properly used and maintained cylindrical washing machine can be used for many years.
7. Can the Rotary scrubber adjust the washing effect?
Yes, the cylindrical washing machine can adjust the washing effect by adjusting the pressure and flow rate of the water spray. According to different ores or sands, users can choose the appropriate washing effect.
Rotary scrubber Technical Parameter: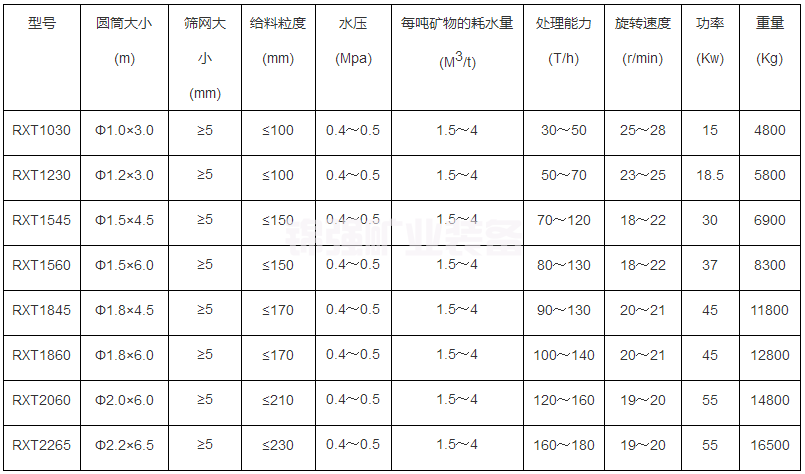 Rotary scrubber Related products