Chute equipment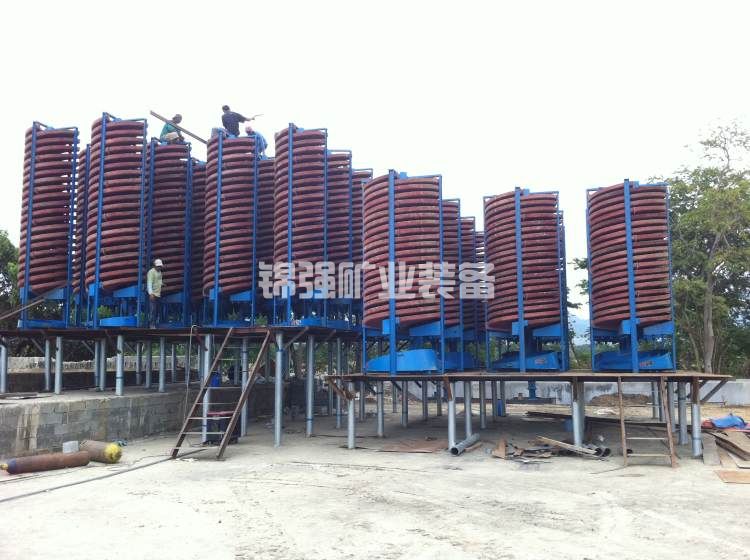 Introduction: Chute equipment for mineral processing is a trough that is used to transport goods from a higher to a lower level on a road surface. The inside of the chute is smooth and clean, allowing goods to slide down automatically. It is commonly used for tasks such as rinsing stone and sand content or releasing wood. The main application of beneficiation chute equipment is in small and medium-sized open-pit coal mines. It is often used in conjunction with chutes in both large and small open-pit coal mines, and can be located within the mining area or in a separate area.
Classification: There are various types of ore dressing chute equipment, which can be classified into coarse and fine sand chutes and mineral mud chutes based on the particle size distribution of the raw materials. Common examples of coarse and fine chutes include spiral concentrator machines (such as spiral chute equipment, fiberglass spiral chute equipment, fan-shaped chutes, and cone concentrator machines). Chutes used for beneficiation include shaking and tilting beds, suction filtration concentrator machines, transmission belt chutes, scattered flow transmission belt chutes, and vibrating transmission belt chutes.
Jinqiang Mining Equipment specializes in the production of ore dressing chute equipment. Our products are directly sold by the manufacturers, offering great advantages in ore dressing. Our ore dressing chute equipment is of high quality and affordable, and we provide comprehensive services. We welcome you to make a purchase.
Chute equipment news

/

Related news